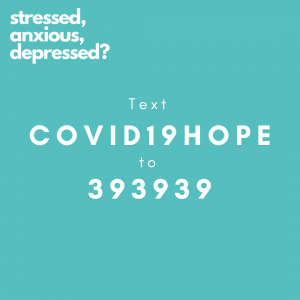 Text4Hope Expands to Include Addiction and Cancer Supports
Free, text messaging support available to Albertans through difficult times.
Text4Hope is expanding to reach more Albertans who may be struggling during difficult times.
Text4Hope-Addiction Support and Text4Hope-Cancer Care are new Alberta Health Services programs provided by the Mental Health Foundation and are specific and targeted to those dealing with psychological issues related to addiction and cancer issues.
To subscribe to the cancer program text "CANCERCARE" to 393939 and to the addiction program by texting "Open2Change" to 393939.
Subscribers will receive three months of free text messages.
Text4Hope originally launched in March to help those looking for support as COVID-19 impacted many Albertans.
Now, participants can sign up for any or all Text4Hope programs and will receive positive text messages every day, advising them, for example, to focus on things they can control or to practice healthy coping strategies. To self-subscribe to Text4Hope, text "COVID19HOPE" to 393939.
The Text4Hope programs are designed to help people cope with stress and anxiety and all Albertans are welcome to join.
The Mental Health Foundation gratefully acknowledges the support of Alberta Blue Cross, Calgary Foundation, Edmonton Community Foundation, and the Edmonton Civic Employees Charitable Assistance Fund to provide and expand Text4Hope.
The Text4Hope program is funded by the Mental Health Foundation, Calgary Health Trust, University Hospital Foundation, Royal Alexandra Hospital Foundation, Alberta Cancer Foundation, Alberta Children's Hospital Foundation and AHS.
Currently, there are over 46,000 subscribers.
Subscribers are able to sign up for all or any of the Text4Hope programs.

Text4Hope-Addiction Support
Because of the need for physical distancing, providing addiction counselling to people with drug or alcohol problems has been challenging.
People who have lost proximity to support systems, programs and relationships that help them stay sober may be tempted to self-medicate in order to deal with stress, anxiety and isolation.
Text4Hope-Addiction Support aims to help individuals reduce cravings, promote recovery and observe social distancing through brief, daily supportive messaging.
Text4Hope-      Cancer Care
If you or someone you care about has cancer, that's a lot to worry about. But with the added stress of COVID-19, you may be having a lot of other feelings as well. It is normal to have strong feelings at this time.
Because of COVID-19, visitors are restricted both at home and during appointments.  Individuals who have been recently diagnosed or undergoing treatment may feel even more alone and isolated than before.
Text4Hope-Cancer Care aims to provide additional support to reduce anxiety and depression related to cancer diagnosis and treatment in Alberta.