Day Hospital at Alberta Hospital Edmonton

Alberta Hospital Edmonton brings a community philosophy to an inpatient environment in their innovative new Day Hospital program.
The Foundation seeks to support patients where they're at with community-based resources that allow them to live their lives with a sense of normalcy, creating more meaningful patient experiences that are also cost-effective.
The new Day Hospital program at Alberta Hospital Edmonton fills a missing piece in the system. It was created as an avenue for individuals in need of psychiatric care to participate in a therapeutic environment but still get to go home to their bed at night.
The first of its kind in the Edmonton Zone, the Day Hospital program provides a cost-effective alternative to being admitted into a hospital, where patients often must stay longer and often report feeling frustrated and isolated from their communities.
A hospital stay can make reintegration into the community and home life difficult, while the Day Hospital–offering a hospital environment with a community philosophy– has an interdisciplinary team with all the skills to support any needs a patient may have during the day so they can return home to family, friends, and community at night.
The program is complementary to services already offered, supporting patients in individual in group settings 7 days a week. The Day Hospital also provides timely access to supports from emergency departments for patients who would otherwise be admitted if this program didn't exist. It helps prevent unnecessary hospitalizations, which also helps the overall flow of the system.
Your Support
Donor support enabled the Foundation to invest $220,000 into the Day Hospital Program in 2018-2019. This funded facility enhancements such as quiet rooms—to calm agitated individuals or simply for someone to take a moment for themselves—window coverings for privacy; and new clinical equipment to augment what's currently available, including medication fridges, blanket warmers, crash cart, medication carts, and an accessible washroom.
It was a matter of life and death for me. I never learned the skills to cope with my illness. I just called the pharmacist every six months, and they refilled my prescription. I wasn't dealing with anyone but myself, and I wasn't thriving. If there was no Day Hospital program, I would have gone back to work, told everyone I was better, and history probably would have repeated itself. The program saved my life.

Len, Day Hospital patient
Highlights of the Program
The new Day Hospital program is home to the first 2 (of 5) brain stimulation machines our community funded, as part of an innovative neuromodulation program for depression
The new Day Hospital program frees inpatient beds for the most acutely ill patients while allowing those who are able to receive care in an outpatient environment
The Day Hospital seeks to be as barrier-free as possible: transportation is available for patients who need it, shuttling between central Edmonton to the hospital throughout the day
Group Therapy has been indicated as the most impactful part of the program by patients
The Day Hospital is the first stage of Alberta Hospital Edmonton's Ambition 2023 strategy, which seeks to modernize the hospital and promote innovation to improve quality care for impatients
Donors to the Mental Health Foundation have supported programs at Alberta Hospital Edmonton since the Foundation's inception 20 years ago. Thank you for helping us continue this legacy through your support of this much-needed addition to the addiction and mental health care system.
In the Media
Alberta Health Services
Day Hospital provides patients with acute care without hospitalization
Watch Video
Global
New option for psychiatric care now available at Alberta Hospital
Video and Story Here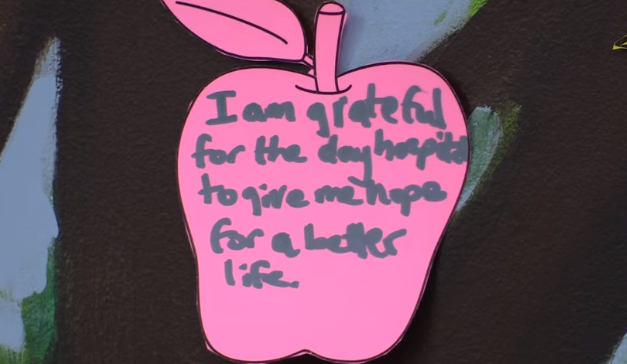 Edmonton Journal
Finding another way: Day Hospital helps those suffering with mental illness.
Video and Story Here